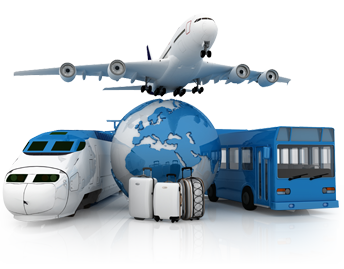 Travel & tour solutions
CAXITA known for it's ever-growing passion to create world class applications which will outshine the competitors with its unmatched quality and productivity is proud to introduce an Application which will transform the travel industry to the next level of business excellence with its unique features.

CAXITRA- An exclusive and complete online solution for your travel operations…. is designed by a perfect unite of experts from both IT and Travel industry after careful consideration of current industry requirements with a gaze at possible future developments. CAXITRA is packed with verticals like Flight, Car, Hotel, Train, Cruise, Bus, insurance, Forex, Holidays and Visa is well equipped with the latest technologies to satisfy the clients by providing nothing less than the best.

CAXITRA facilitate the Travel Business Ventures by acting as a strong user-friendly platform which will enable them to create, book, integrate and manage their travel business requirements in a most cost effective and simple manner with minimum human resource requirements. CAXITRA is a highly customizable application which can be modified and integrated with multiple Payment Gateways and GDS based on client's requirements and budget. CAXITRA ADVANTAGES

CAXITRA is developed to simplify the travel operations and management of travel industry in a hassle-free and cost effective manner. It supports all travel business aspirants to reach the realms of business excellence through its well defined and organized system features.

GDS Supported : Galileo, Amadeus, WorldSpan, Sabre

Vertical Supported : Flight, Hotel, Bus, Car, Cruise, Insurance, Forex, Holidays, and Visa


KEY FEATURES: Technical Advantages
Microsoft WCF Technology : Caxitra armed with WCF technology to communicate with our Service Layers that handle all GDS communications, makes our system most flexible, secure and reliable. This Advanced Technology facilitates faster search results in minimum time.
Microsoft Cache Control Architecture : Caxitra is equipped with effective Microsoft Caching Technology to facilitate the system to reduce huge hit charges (L2B Charges).
Plug & Play Architecture : It supports Caxitra to incorporate more features/ API as per the requirements of client without affecting existing Program Architecture.
Fully Browser Compatible : Caxitra is developed with an eye on user friendliness and is compatible to all browsers which enhance its easiness in operations.
Advanced Thread Concept : Caxitra is equipped with Advanced Thread Concept which gives a cutthroat advantage of faster search result within a matter of seconds.
Secure Socket Layer : Caxitra is supported with Secure Socket Layer which provides maximum security to our travel application and prevents all kinds of unauthorized access.
KEY FEATURES: Product Advantages
Corporate Management Tool (CMT) : CMT is packed with features like Deposit Management System, Credit Limit Management System (Supports both Positive Credit Limit and Negative Credit Limit System) and Profile Management System which helps the corporate/clients for the effective management of their travel requirement.
B2B : Caxitra allows creating Multiple Branches, Branch Users, Sub Agency, Sub Agency Users and Guest Users with privileged access through predefined functionalities which can be modified by the Super Admin whenever required. It permits the customer to create Customer ID and Customer Account; moreover information is passed through message sending facility which will facilitate the customer well informed about the deal and eliminates all possible slip ups.
B2C : This feature allows the guest users to create their own account and facilitate to search & book properties based on their requirements. It also provides space to manage/modify their account/profile whenever necessary. Additional to this, for every transaction through guest account, information is provided by SMS and E-Mail to the concerned guest user which will nullify all possible errors.
Business Management : This enables you to adjust Service Tax Settings, Markup Management, Discount management/ coupons and Accounts and Reports section provides the track of Monthly/ Daily Sales Register, Booking History Report details and API Query Tracking Reports which facilitates proper and effective supervision of your business.
Carrier Specific Availability : Caxitra uses Carrier Specific Availability Search from GDS which carries an extra advantage compared to General Availability of getting latest and updated availability result directly from airlines.
Ticket Queuing Facility : Booking will be queued to the head office in cases, where user exceeds the credit limit or if the role of ticketing is not assigned to that particular user.
Multi HAP Management : It helps to manage multiple PCC effectively and it allows the bookings made by each branch credited to its own PCC. The IATA Agency branches can share ticket quota among themselves. If a branch has no ticket stock of a particular airline, the system can issue the ticket using another branch's ticket stock.
Content Management System (CMS) : This will allow you to add, modify or remove company details, contact info, additional features, special deals and / offer in an easy way whenever required.
Payment Gateway : Caxitra provides multiple choices for payment which includes Credit/ Debit System and Net banking facility.
Flexibility/ Customization : Caxitra with its high flexibility and customization features becomes one of the best reliable online solutions for the travel agencies and related ventures in their business execution. Team Caxita is always ready to work on Caxitra as per the requirements and budget of clients to carry them towards business excellence.